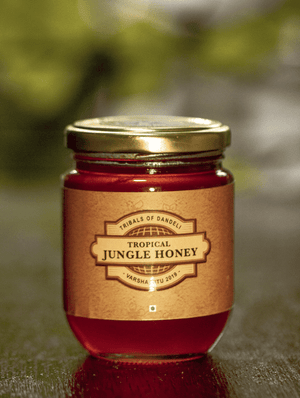 Tropical Jungle Honey (280 g)
Sale price Price Rs. 324.00 Regular price
Tax included.
Jungle Honey comes from the nectar of wildflowers and hence the name. The honey is harvested by the tribals of Dandeli. The area is a natural habitat for wildlife, including tigers, leopards, black panthers, elephants, gaur, deer, antelopes, and bears. The bees collect the nectar from mainly the flowering Teak, Bamboo and fruit bearing forest trees. This honey imbibes the wilderness of the second largest sanctuary in Karnataka. The honey is unprocessed, dark in colour and rich in taste. While the taste is said to change with the seasons, what doesn't change is its goodness. Brought to you by Bhumi Sutra, an initiative of Earthos Global. A social enterprise that partners with individuals and communities committed to sustainability.
Ingredients: 100% Pure Honey No preservatives, sugar or artificial flavours added.
Storage: Store in cool dry place away from sunlight. DO NOT REFRIGERATE: Honey tends to crystallize and can be liquified by placing the bottle in warm water.