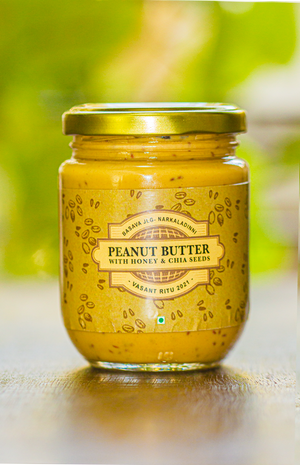 Peanut Butter with Honey & Chia seeds (250 g)
Sale price Price Rs. 349.00 Regular price
Tax included.
A desi variety of peanuts are grown by Sri. Shyamsunder, a marginal farmer in Narkaldinni village of Raichur District. He has been trained by Sevashram Khadi & Village Industry to grow peanuts organically using his own farm waste along with cattle dung. He practises "Zero Budget Farming" using the traditional technique of using Panchagavya, Jeebvamrutha, Ghanamrutha in peanut crop cultivation. Further, SEVA trained woman group - Basava JLG makes the Peanut Butter in the most hygienic conditions, using the manufacturing infrastructure provided by SEVA. The peanuts are roasted and crushed then mixed with raw honey and chia seeds to create the perfect blend giving it a unique flavour. It has all natural ingredients and is Chemical FREE.
 This gourmet food has NO chemicals, NO preservatives, NO added colours and NO added sugars. Enjoy the heavenly blend of flavours with most healthy benefits, a perfect spread accompaniment for toasts and chapatis. It has zero cholesterol and zero trans-fats. Honey Peanut butter with Chia seeds makes your breakfast a wholesome delicious healthy meal.
 This product is bought to you by Earthos Global LLP. A social enterprise that partners with individuals and communities working on sustainability.
 STORAGE: Store in cool dry place away from sunlight
Ingredients: Roasted Organic Peanuts, Raw Honey, Chia Seeds & Himalayan Pink Rock Salt