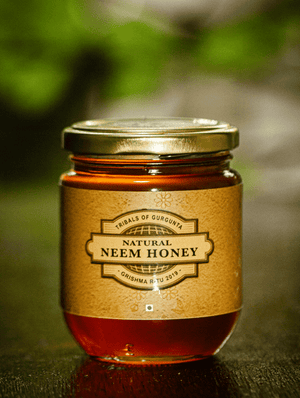 Natural Neem Honey (280 g)
Sale price Price Rs. 299.00 Regular price
Tax included.
Gurgunta, located in Northern Karnataka, (just 10 kms away from the Hutti Gold Mines) is famous for the ancient Amareshwara temple. The Tribals of Gurugunta farm the Natural Neem Honey from the nearby jungles. This nectar is collected by the wild bees mainly from the flowering Neem trees during the months of March-July. Natural Neem honey is a dark honey, with a rich natural dark colour, gingerbread taste and the distinctive essence of honey. It has a high medicinal value, as it improves immunity, cleanses the body internally, and boost the overall health Brought to you by Bhumi Sutra, an initiative of Earthos Global. A social enterprise that partners with individuals and communities committed to sustainability.
Ingredients: 100% Pure Honey No preservatives, sugar or artificial flavours added.
Storage: Store in cool dry place away from sunlight. DO NOT REFRIGERATE: Honey tends to crystallize and can be liquified by placing the bottle in warm water.