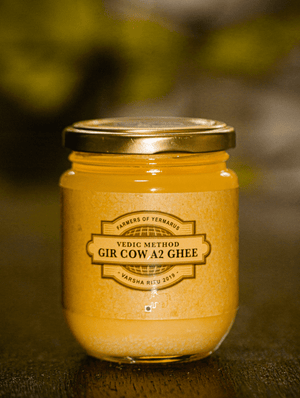 Gir Cow Vedic A2 Ghee (250 ml)
Sale price Price Rs. 648.00 Regular price
Tax included.
Located in the Gulbarga Division of Karnataka, India. Individual & small land holding farmers of Yermarus make ghee using the traditional Vedic Bilona method from Gir cow milk. The milk is converted into curd, hand churned by the women folks into butter and then melted to make Gir cow A2 ghee. Brought to you by Bhumi Sutra, an initiative of Earthos Global. A social enterprise that partners with individuals and communities committed to sustainability.
Ingredients: 100% Gir Cow A2 Ghee. No chemicals or preservatives added.
Storage: Store in cool dry place away from sunlight. Always close the lid and refrigerate after opening. Always use a dry spoon.