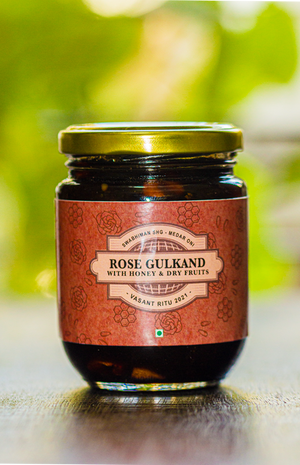 Rose Gulkand with Honey & Dry Fruits (250 g)
Sale price Price Rs. 399.00 Regular price
Tax included.
Rose Gulkand with Honey & Dry Fruits has been formulated by Sri. Dyamanna resident of Lingasugur, he is Vice President of  Karnataka State Traditional Ayurveda Practioners Association. The recipe is based on organic Damascus Rose petals sourced from Chikkaballapur along with Jestamadhu Honey and Dry Fruits and nuts  such as Almonds, Raisins, Muskmelon seeds, Watermelon seeds, Pumpkin seeds, & Sunflower seeds. It has all natural ingredients and is Chemical FREE. 
 Rose Gulkand with Honey & Dry Fruits is made by a women's group SWABHIMAN Self Help Group, Medar Oni which is supported by Sevashram. The S.H.G. is led by Smt. Padmavathi. SEVA has trained the group consisting of marginalized women members to support them in sustainable livelihood.  SWABHIMAN S.H.G. team works under the guidance of Sevashram Khadi & Village Industry and utilizes its infrastructure for manufacturing in the most hygienic condition. The Gulkand is packed in food-grade, air-tight glass bottle for a longer shelf life.
This gourmet food has NO chemicals, NO preservatives, NO added colours and NO added sugars. Rose Gulkand with Honey & Dry Fruits has delightful refreshing taste. Use it to make milkshakes, or as a topping for the ice creams or kheer. You can just simply relish it with paan post meals for better digestion.
 This product is bought to you by Earthos Global LLP. A social enterprise that partners with individuals and communities working on sustainability.
 STORAGE: Store in cool dry place away from sunlight. Always use a dry spoon.
 Ingredients:  Rose Petals, Raw Honey, Dry Fruits & Nuts - Almonds, Raisins, Muskmelon seeds, Watermelon seeds, Pumpkin seeds, Sunflower Seeds & Himalayan Pink Salt